Gambassi Terme
The municipality of Gambassi Terme, within the province of Florence, counts around 5000 inhabitants and is located in the heart of Tuscany, best known for its unique landscapes of soft green hills, lines of cypress trees and dirt roads.
Gambassi Terme, best known for the thermal spring waters of Pillo, is positioned along the Volterrana road (once called via del Sale – Salt Road) which already was an important communication route between Florence and Volterra during the Etruscan civilization; many in fact are the Etruscan rock constructions and archaeological findings in this area, in addition also to evidence of the late Roman period ( such as the  roman Cystern that is located nearby, in the area of Poggio all'Aglione).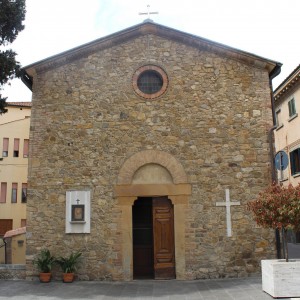 Later, during the medieval period, the urban area of Gambassi developed thanks to the Cadolingi family (a powerful family originally from Lombardy), and later thanks to the bishops of Volterra and San Gimignano, until it became territory of Florence.
Also during the medieval era, the art of the "Bicchierai" – glass-blowers developed: this art became very important for the urban growth of the town, with true masters of the art of glass-making, who manufactured glass-made objects, particularly for conservation and commerce of local produce such as olive oil and wine. The fame of the glass-blowers from Gambassi Terme was such throughout Italy, they were called to Murano to teach the art of making glass.
Today the territory around Gambassi Terme is strictly tied to farming, with the production of premium olive oil and wines; the Villa Pilo farm has invested on enhancing its synergy with its "terroir", adding French vines, that well adapt to the quality of the soil, aside the their classic cultivation of Sangiovese. The area has also become a destination for many attracted by the agritourism and by the famous via Francigena – an ancient pilgrim route.